GLADSTONE & OUTBACK & LODEN
Vintage Dooney and Bourke
Gladstone Bags
All-Weather Leather
Vintage Dooney Gladstone Bags were so beloved & elite, very few remain in circulation today, rather remain in private collections.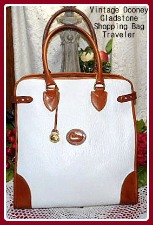 The Gladstone Collection includes some of the largest Vintage Dooney AWL satchel-shopper & luggage type bags DB made in those days. Gladstone Bags are timeless travelers whose design recalls the grace and decorum of a bygone era. A head-turner indeed!

AND
Vintage Dooney and Bourke Outback Bags
The Outback Bags were originally made in 1993 and came in 6 different sizes. Still in demand today, these classic beauties are perfect for those who need to pair organization with style.
Characteristics:
A roomy outside front pocket which has been molded to retain its unique shape

Double pocket Outback Bags have two in front

Outside back pockets

Inside pockets with credit card slots

Adjustable and detachable shoulder straps
Vintage Dooney Loden Bags