New! Now shop for your favorite Vintage Dooney and Bourke handbags and accessories
by COLOR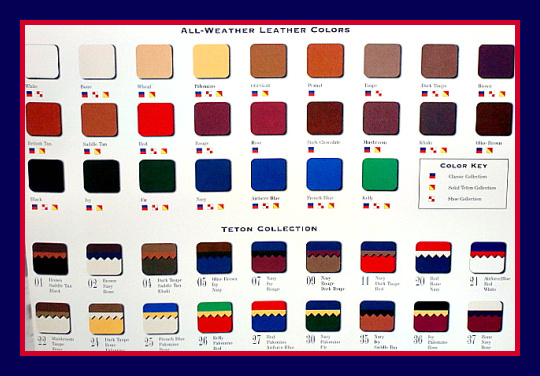 All Weather Leather Purses with matching trim were only made in certain colors, thus more rare. These are:
Black
Red
Navy Blue
British Tan
Photographing Dooney Bags with so many rich lovely colors is a challenge. Lighting and settings can affect the shade or colors. We endeavor to keep the colors as close as possible to the actual purse, in our dooney and bourke Vintage bag pictures.
Dooney AWL Bags are Saturated with Color. For their vintage All-Weather Leather Collections, they used a signature natural drum-dyeing process to color the leather.
Dooney All-Weather-Leather Color Process:
After tanning, Dooney & Bourke hides are placed in huge oak drums filled with rich natural dyes and left to soak for days.
The dyes slowly permeate the leather to produce a rich, lasting color.
Just as stain soaks wood and allows its grain to show through, drum dyeing reveals the natural markings and extraordinary character of the hide.
Dooney and Bourke drum-dyeing process took longer than conventional spraying, but Dooney's commitment to quality created a superior finish.
This process results in slight variations of color.
All-Weather Leather Handbags can be found in 17 different Colors with British Tan trim, matching Dooney's Tan Harness Leather trim, and 22 colors including all collections made.
All-Weather Leather Color Collection:
Red
Fir (green)
Black
Khaki
British Tan (slightly darker than Peanut)
White
French Blue
Wheat (more golden & darker than Bone)
Ivy (darkest green)
Mushroom (similar to taupe but a bit darker)
Bone (creamy white)
Navy (blue-very dark, almost black)
Taupe
Rouge (dark deep red with a touch of burgundy)
Air-Force Blue (dark but more blue than navy blue)
Olive Brown (very dark earthy brown)
Peanut (very similar to British Tan however a tiny bit of orange mixed in and just a bit brighter tan)
Aubergine (Eggplant purple)
October 1993 Dooney & Bourke All-Weather Leather Color Announcement:
Dooney & Bourke bags and accessories now come in a wider range of colors & color combinations than ever before.
This season Dooney & Bourke introduced 5 new hues of handbag color:
Old Gold Color by Dooney & Bourke
Saddle Tan Color by Dooney & Bourke
Dark Taupe Color by Dooney & Bourke
Brown Color by Dooney & Bourke
Dark Chocolate Color by Dooney & Bourke
With this Fall of 1993 addition of new All-Weather Leather Colors, Dooney & Bourke was now offering their Dooney Handbags in a total of 22 different colors, shades and hues.
Dooney & Bourke also announced:
If you love the strong impact of a solid color look, Dooney & Bourke bags may be purchased in red, navy, black or British tan with matching trim. (This is when Dooney began making a few Dooney & Bourke Handbags & Wallets with matching All-Weather Leather Trim--a few of these rare vintage Dooney's we have here in our AdorePurses Store.)

For Dooney purse customers looking for a more dramatic color statement, you could choose one of the BRAND NEW Teton Bags which came in eleven different multi-color combinations (Fall of 1993 Dooney & Bourke began making their Teton Collection in 11 multi-color combinations).

During the short time Dooney & Bourke produced Teton Bags, they came to make them in the following 18 Multi-Color Combinations (Dooney & Bourke All-Weather Leather Teton Bags are listed here with the first color being the Top Band, then the second color is the saw-tooth trim, then the third color listed is the body of the Teton Dooney bag):
The Teton Collection
Brown, Saddle Tan, Black
Brown, Navy, Bone
Dark Taupe, Saddle Tan, Khaki
Olive Brown, Ivy, Navy
Navy, Ivy, Rouge
Navy, Rouge, Dark Taupe
Navy, Dark Taupe, Red
Red, Bone, Navy
Airforce Blue, Red, White
Mushroom, Taupe, Bone
Dark Taupe, Bone, Palomino
French Blue, Palomino, Bone
Kelly, Palomino, Red
Red, Palomino, Airforce Blue
Navy, Palomino, Fir
Navy, Ivy, Saddle Tan
Ivy, Palomino, Rose

Bone, Navy, Rose

Over Time,

Vintage Dooney and Bourke All-Weather Leather collections
were made in several colors:
navy blue

black

white

bone

saddle tan

taupe

dark taupe

ivy

fir

red

rose

dark chocolate

mushroom

khaki

olive brown

palomino

british tan

mediterranean blue

airforce blue

french blue

kelly

brown

rouge

Wheat

Old Gold

Peanut
Vintage Dooney and Bourke Trim Colors
British Tan

Burnt Cedar

Matching
Vintage Dooney and Bourke Glove Leather
There are no products matching this criteria. Please try again.