Dooney and Bourke Authentic Replacement Parts:
Email me with requests if you aren't finding what you need: vintagedooney@hotmail.com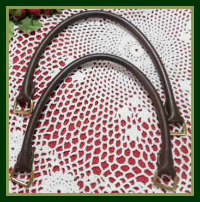 Finding Genuine Vintage Dooney and Bourke replacement parts are as rare as hens teeth!
There is a real demand for Vintage Dooney parts which have been removed or somehow become lost. I receive requests for such parts as
Brass D-Rings
Leather Shoulder Straps of various lengths
Leather Satchel Handles of various lengths
Dooney Brass Duck FOBs
Leather straps from which Duck FOBs hang
Dooney & Bourke Sleeper or Dust Bags of various sizes
From time to time I receive Vintage Dooney bags which unfortunately do not meet my high standards, however, make it possible to salvage these precious authentic Dooney gems as offerings to my clients in need of parts or sleepers.